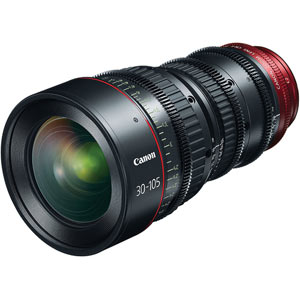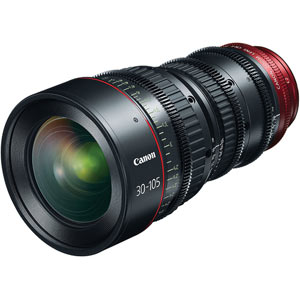 Canon CN-E 30-105 Zoom Lens Rental
The Canon CN-E 30- Designed for contemporary 4K production standards, the phenomenal fast lens -aperture zoom lens that is ideal for cinematographic projects. Something that helps it stands out is its ability to capture sharp images without losing consistency at all zoom levels.
It also features a fast-aperture telephoto zoom that's specifically designed for cinematography. Some of the other features that wouldn't fail to impress you include:
Little to no breathing
Easy to get a stable, beautiful bokeh
Top-notch performance with 4K cameras
In fact, the CN-E 30-105 has been specifically designed keeping the demands of a 4K camera in mind as well as an ENG style lens, it also comes with angled surfaces, something that are going to come in handy for those that like pulling their own focus. The 300° rotation for focus also offers more than enough room for reference marks which will make your life easier if you will be working on high-end production projects.
Then there's the geared inner focusing, which paves the way for almost non-existent "breathing," as it helps keep the focus-induced changes to a bare minimum.
The CN-E 30-105 was also designed to be very lightweight. It weighs just 4.8lbs, which makes it surprisingly lightweight for the kind of focal length it brings to the table.
The CN-E 30-105's fast aperture of T2.8 makes it a great option for anything that has to do with shooting in low-light conditions. Similarly, the 11 iris blades allow you to easily achieve the kind of bokeh you want in the background.
Here's a quick look at its important specifications:
Has both EF and PL mount
The minimum aperture is 2.8
No autofocus, only manual focus
The focal length range is 30-105
Features 11 iris blades
At 23.6", it's minimum focusing distance is pretty impressive as well
Supports image stabilization
The diameter of the lens is 4.49"
The front lens diameter is 114mm
It doesn't come with a hood
Although it's hard to beat the CN-E 30-105 for its class, it costs around 40k. So unless you're sure about using it for years, renting it for the time you need would turn out to be a much better (and economical) option.
We offer the best camera equipment rental rates in Los Angeles and have very flexible terms. Renting the Canon CN-E 30-105 from us is a very easy process as well, and you can do it right away by calling us at
ph (818)-907-7770.